Thousands lose power in the brutal cold after a bomb cyclone dumps record-setting snow
By Aya Elamroussi and Holly Yan, CNN
Updated 6:58 PM ET, Sun January 30, 2022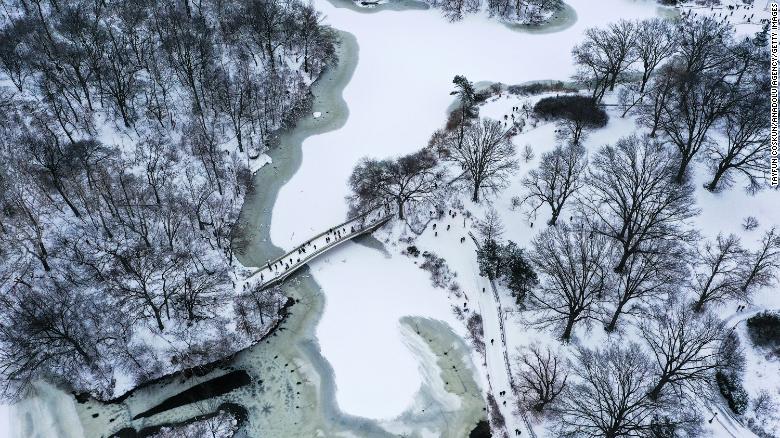 (CNN)The nor'easter that dumped record snowfall in parts of the East Coast has left treacherous wind chills and thousands of people without power."An East Coast blizzard dropped one to over 2 feet of snow along the coast. Now, cold weather will hold a grip on the Mid-Atlantic today and tonight," the National Weather Service Middle Atlantic River Forecast Center tweeted Sunday.
Ferocious winds knocked down power lines in Massachusetts, leaving 88,000 outages in the state late Saturday, according to PowerOutage.us.
By Sunday afternoon, the number had dropped to around 16,000 outages, the Massachusetts Emergency Management Agency reported.
Regional shelters and warming centers have been set up for those without electricity in the brutal cold, Massachusetts Lt. Gov. Karyn Polito said Sunday.
She said the state's transportation department has been trying to clear roads to provide access for those in need.
About 1 million people across the Northeast were under winter weather alerts Sunday — down from about 16 million people Saturday night.
"That is a huge drop-off as the storm exits the most populous areas of the eastern seaboard," CNN meteorologist Derek Van Dam said.But there's a catch: "Behind the northward moving storm, winds of 10-20 mph, with gusts to 30 mph had led to areas of blowing snow and below-zero wind chill values across much of the Northeast," the National Weather Service's Weather Prediction Center said Sunday.